Finding the ideal loan for your needs is our Mortgage Planners' specialty.
By navigating through the conditions of each loan, Fairway's goal is to find the best loan for your lifestyle. From loans that require no money down all the way up to jumbo loans for luxury homes, our only objective is to ensure that you are comfortable in your payment and get you approved quickly and easily.
VA loans are guaranteed by the U.S. Department of Veterans Affairs (VA) to eligible veterans for the purchase or refinance of a home.
Guaranteed home mortgage loans
We are proud to offer and specialize in VA home loans. VA-guaranteed home mortgage loans are made by Fairway Independent Mortgage Corporation and guaranteed by the U.S. Department of Veterans Affairs (VA) to eligible veterans for the purchase or refinance of a home. The guaranty means that the lender is protected against loss if the veteran should fail to repay the loan. In most cases, no down payment is required* on a VA-guaranteed loan and there are no monthly mortgage insurance premiums on VA loans.
If you are active duty military and you have PCS (Permanent Change of Station), here are five reasons to consider using your VA Home Loan Benefits to purchase a home in your area:
Competitive Interest Rates: Even with less-than-perfect credit
100% Financing
Flexible Credit Requirements: We'll work with your credit and give you plenty of options along the way
No Monthly Mortgage Insurance: Unlike conventional and FHA loan products with monthly mortgage insurance premiums that could add to your monthly payment, there is NO monthly mortgage insurance with the VA loan
VA Funding Fee Financing: The VA funding fee can be financed into the loan
*A down payment is required if the borrower does not have full VA Entitlement, or if the loan amount is greater than $424,100. VA loans subject to individual VA Entitlement amounts and eligibility, qualifying factors such as income and credit standards, and property limits
Work with a Mortgage Planner to ensure that you are aware of the entire loan process, and have all of your questions answered
Buying your first home is one the biggest financial decisions you will make in life
It is too important to trust just anyone to guide you through the process of what loans are right for your lifestyle and budget. At Fairway, we employ Mortgage Planners who work tirelessly with first-time homebuyers to ensure that they are aware of the entire loan process, and answer all of your questions along the way.
We want our new homebuyers to feel that they:
Understand the entire loan process from start to finish
Are not wasting money
Are prepared to safely own a home
Have a sound financial plan that will allow them to live comfortably in their new home
We have a variety of home loan programs available for first-time homebuyers. Even if you do not have a long credit history or a large down payment, our Mortgage Planners are happy to meet with you for a complimentary look at whether now is the best time to buy your first home.
If the house of your dreams exceeds the maximum $453,101, jumbo loans offer higher but flexible rates and terms and no pre-payment penalties
What is a jumbo loan?
A jumbo loan, also called a non-conforming loan, is a home mortgage loan that allows financing for loan amounts that exceeds the maximum $453,101.* Since home prices for larger or luxury homes can often exceed this amount, this loan might be perfect for the house of your dreams. A jumbo loan is your best (or only) option if you need to borrow between $453,101 and $3,000,000 for a home purchase or refinance, and are looking for higher but flexible rates and terms and no pre-payment penalties.
With the fluctuating market, jumbo home mortgage loans do call for stricter requirements than in years past, but still follow a similar process that a typical loan would. You will generally need a 20% down payment and could potentially receive lower fixed or adjustable rates offering flexibility for financing with a bigger loan.
When choosing a jumbo loan . . .
You must consider that you are looking at higher interest rates, but also recognize that a jumbo loan provides the convenience of one loan for the entire amount you are looking to borrow instead of several loans. Plus, you can add extra features such as interest-only payments or temporary buy-downs.
*Eligibility subject to program stipulations, qualifying factors, applicable income requirements, and property limits. This is not an offer to enter into an agreement. Not all customers will qualify. Information, rates and programs are subject to change without notice. All products are subject to credit and property approval. Other restrictions and limitations may apply.
Our Mortgage Planners make the process of refinancing easier than you've ever thought possible
Let us help you refinance your mortgage
Interest rates have been quite low for the past few years, but if you didn't take advantage, there is still time before rates go up. Our Mortgage Planners discuss your financial goals to analyze the best loan product to meet your refinancing needs.
There are many benefits to refinancing your home:
Paying down current debt
Reducing monthly mortgage payments
Funding large life events such as college tuition or a wedding
We would be happy to take a look at your current mortgage interest rate and provide you with details on whether refinancing is right for you.
Owning a home outside of city limits may be easier than you thought with USDA home financing from Fairway
Let us show you how you can afford your home
USDA loans can be an excellent option in lending. There are a variety of reasons why this loan may be good for you, but the bottom line may be its affordability. Since this loan is one of the few that require no money down, it is a popular choice for first-time homebuyers.
Some of the benefits of USDA loans are:
Fixed interest rates
No down payment
No maximum loan amount
Available for new or existing homes
100% financing
Seller can pay closing costs
Affordable 30-year loans
The government insures USDA loans. They are limited to certain "rural" areas, although many of the available areas are very close to urban areas. USDA has set maximum allowable household income limits for the program.* Call Fairway today to discuss the USDA Loan Program or to find out about other loans that may fit your needs.
*USDA Guaranteed Rural Housing loans subject to program stipulations and applicable state income and property limits.
Thinking about renovating a home? An FHA 203(k) loan might be right for you
The idea of buying a fixer-upper and turning it into your dream home can seem like a great idea. The reality, however, may not be so great – starting out. You will soon discover how much it will cost to remodel and you may realize that you can't afford it or that a lender will not give you a loan because the home is considered "uninhabitable." That is where an FHA 203(k) loan may come in handy!
A 203(k) loan is offered by the Federal Housing Administration, a government agency that designed these loans to encourage lenders to fund seemingly risky home purchases.
The goal was to allow neighborhood revitalization and greater homeownership opportunities. An FHA 203(k) loan is designed for houses that are damaged or in need of rehabilitation. This loan covers not only the cost of the property, but also the cost of necessary home repairs. A vast range of repairs, including bathroom remodeling, roofing, flooring, and air conditioning systems can be funded with this loan.
Often the loan will also include up to 20% "contingency reserve" so that you will have the funds to complete the remodel in the event it ends up costing more than the estimates suggested. The remodeling funds include parts and labor and the work must be performed by a licensed general contractor.
Which houses qualify for the Streamline 203(k)?
There are two types of FHA 203(k) loans, regular and streamlined. Streamline 203(k) loans are for homes that do not need structural repairs and have limits on the amount of renovations being done.
In order to qualify, homeowners must plan to live in the home they are repairing. The following types of residences qualify:
Existing construction that is at least a year old
Single-family, two-family, three-family or four-family dwellings
Condos, if they have been approved for FHA loans
Buyer must have a minimum credit score of 640
Maximum loan amount varies depending on location
Are you ready to list your home to move into a larger home? A conventional loan might be right for you!
If you are planning to borrow $484,350 or less for a single-family home, you should be looking at a conforming conventional loan. Conventional conforming loans are not made by a government entity, like FHA and VA loans, but instead follow the terms and conditions that follow the guidelines set forth by Fannie Mae and Freddie Mac. These established guidelines generally call for a minimum credit score, certain income requirements, and a minimum down payment (generally between 5% and 20%).
Conventional home mortgage loans have either fixed or adjustable rates. A fixed-rate mortgage, or FRM, means that your mortgage monthly payments remain fixed for the period of the loan and typically have a term of 15 or 30 years. A shorter-term loan usually results in a lower interest rate. An adjustable-rate mortgage, or ARM, fluctuates in relation to the rate of a standard financial index; therefore, monthly payments can go up or down accordingly.
Due to origination fees, down payments, mortgage insurance, points, and appraisal fees, borrowers completing a conventional loan may have to show up at closing with a sizable sum of out-of-pocket money, or be prepared to roll over some of these costs into their mortgage amount, which may result in a higher loan rate. If you are selling your current home, however, you will likely have money from your sale to offset these costs. Because these mortgages generally require higher down payments than the other options, the home's equity can build more quickly.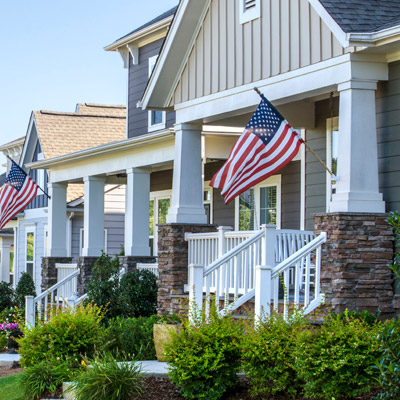 Fairway makes FHA loans easy
An FHA loan is a mortgage that is insured by the Federal Housing Administration, which is part of the U.S. Department of Housing and Urban Development (HUD). The FHA does not loan money to borrowers; rather, it provides lenders protection through mortgage insurance. This FHA insurance allows lenders such as Fairway to provide home loans with down payments as low as 3.5% of the purchase price. FHA loans are also very useful to refinance and consolidate debts into a low, fixed-rate loan.
Fairway specializes in FHA mortgage loans
Fairway Independent Mortgage specializes in FHA mortgage loans, especially for first-time homebuyers or those without a 20% down payment. For those with a lower credit score or credit issues, our underwriters can explain some variances in payment and put your loan on the road to success. Even in the case of filing bankruptcy, a borrower may obtain an FHA loan after two or more years of re- establishing good credit. Our FHA loan programs are particularly beneficial to those buyers with less available cash. The rates on FHA loans are generally market rates, while down payment requirements are lower than for conventional loans.
Mortgage Planning: Fixed or adjustable?
Once you have determined the down payment size, the next most critical piece of a mortgage plan is to decide which loan program is best for you. Over the past year, most homebuyers chose a 30-year fixed-rate mortgage. As recently as 2010, Freddie Mac reported that over 95% of homeowners who refinanced chose a fixed-rate mortgage.
Certainly, there is nothing wrong with a fixed-rate mortgage – it's just that for some people, they can save a lot more money by strategically choosing an adjustable-rate mortgage (ARM). However, not all ARMs are the same.
In the sub-prime days of 2003 to 2007, many homeowners got in trouble with ARMs, but these were not the same ARMs that are offered today. The sub-prime ARMs adjusted after just two years, and they had a very high margin so that rates could jump by 5-8% on the mortgage. These loans also carried a pre-payment penalty – leaving a homeowner stuck with either a higher interest rate for the third year, or they would have to pay a pre-payment penalty to get out of their ARM.
Sub-prime ARMs were rarely a sound part of a mortgage plan and, in fact, were often pushed on homebuyers by greedy lenders. Home- buyers were usually overly optimistic as well, so they can shoulder some of the blame for buying something when they didn't know all of the risks. However, the good news is that sub-prime 2-year ARMs no longer exist, so they aren't a threat to a homebuyer.
Today's ARMs are much different and pretty safe for some homebuyers. They usually will have a fixed-rate period for the first 5 or 7 years, and then will adjust after that. The trick to these loans is to only use them if:
You are going to save too much money to pass them up
You are pretty sure you will only use the money for 5-7 years
You have a plan to pay off the loan in 5-7 years
Saving too much money to pass up an ARM?
As part of a mortgage plan, a homebuyer could choose a 7/1 ARM and then apply the monthly savings to paying off the loan faster. For homebuyers making a less than 20% down payment and paying PMI, a 7/1 ARM can be a great loan strategy for a disciplined homebuyer to use to build equity faster – as long as the monthly savings are used to pay down the loan faster to get rid of PMI. If you are only going to own your home for 5-7 years or less, the lower rate on an ARM could make sense for you, as well. For some people, the plan is to carry a mortgage for 5-7 years.

Connect with a Fairway Mortgage Planner

Download the FairwayNOW App or apply
Create a mortgage strategy and be pre-approved
Find your home with a realtor or with HomeScout
Make an offer and sign a contract

Close when you want with easy processing
A reverse mortgage loan allows you to use a portion of the equity in your home to enhance and extend your retirement. If you currently have a mortgage, it could eliminate your monthly payment, although you are still required to pay property taxes, homeowners insurance, and maintenance. You must be 62 or older, and meet limited credit and property qualifications.
Seniors are living longer and may not be able to afford to do the thing they hope to with only their retirement funds or social security. Tapping into the equity you built in your home may be an excellent way to enjoy life! Call us today for a no obligation consultation, and bring along your financial planner or your children. We are happy to talk you through this exciting opportunity.
Licensed by the Department of Business Oversight under the California Financing Law. Fairway is not affiliated with any government agencies. These materials are not from VA, HUD, or FHA, and were not approved by VA, HUD, FHA, or any other government agency.
All rights reserved. This is not an offer to enter into an agreement. Not all customers will qualify. Information, rates and programs are subject to change without notice. All products are subject to credit and property approval. Other restrictions and limitations may apply. Equal Housing Opportunity.